Analysis of Robotic Process Automation (RPA)
Artificial RPA Robotic process automation intelligence and machine learning that come with it will kick start the age of modernization and development. The digitalization and automation of significant businesses were facilitated by it.
Humans introduced robots here in order to make business operations more efficient. Technology advanced rapidly, however, leading to the development of RPA robotic process automation. 'The Terminator' and the robots in it are often referred to as this kind of robot because they stand against humans without empathy. However, we are safe; only their efficiency has improved dramatically, leaving humans behind. This kind of automation does not include robots.
The technological advancement has changed the business landscape, enabling companies to create a competitive advantage with the smallest amount of resources. Using RPA technology to automate repetitive tasks has streamlined business processes and reduced costs. In this way, workers can focus on more critical tasks that require human attention. There is a great deal of confusion between RPA and AI when the two are completely different. Its application has spread across all industries worldwide, bringing out the best in each.
What is RPA (Robotic Process Automation)
RPA is an acronym for robotic process automation, a software technology for developing and managing software robots. These robots run on physical or virtual machines, capturing and interpreting apps, processing transactions, triggering responses, and seamlessly communicating with digital systems. Humans can perform any task with this technology. The program is capable of navigating systems, extracting data, understanding screens, and performing a variety of tasks. The robots, however, are faster than people. The goal is to mimic the actions of humans or their interactions with computers to perform error-free tasks as quickly as possible.
It enables anyone to explain to a robot or bot how to complete a task, which is often considered a type of business process automation. Automating a response to an email or launching hundreds of bots programmed to automate the functions of an ERP system are examples of simple to complex tasks that can be performed by this technology or bot. Similarly to artificial intelligence, they automate mundane office tasks. Thus, major routine tasks can be automated to improve enterprise efficiency. There are solutions for every industry, including healthcare, logistics, retail, marketing, etc.
Despite its ease of understanding, RPA has been explained in various ways that make it difficult to understand for common people. Every definition conveys the same message, however. RPA robotic process automation is ideal for companies dealing with extensive data, since it avoids repetition by automating the routine tasks.
What are the Benefits of RPA for Companies?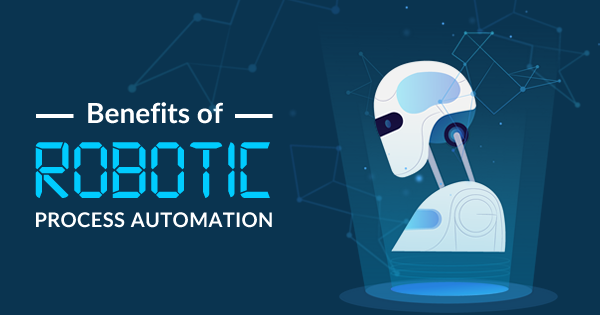 A software robot automates the major tasks with the help of RPA. Any organization can reduce its overall costs by using it. In order to accomplish this, firms use robotic process automation to automate the tasks instead of hiring more workers to complete the tasks on time, thereby saving time, money, and human error. Secondly, they utilized existing workers to perform crucial tasks that require human attention, maximizing productivity. Several bits are deployed by many companies to run different processes. The bank redesigned its claim process by launching 85 bots for 13 operations that handled 1.5 million requests a year.
The low-cost bots are easy to implement, so companies can take advantage of them. The result is that they are not dependent on custom software or deep integrations in order to perform optimally. Automation of low-value tasks can boost growth by deploying technology or robots.
There has been an increase in responsiveness, flexibility, transparency, and profitability in organizations. Overall performance, employee satisfaction, and user interaction were improved as a result. The repetitive and mundane tasks are removed in order to accomplish all of this. Digital transformations are increasingly using it, particularly for legacy systems without APIs, data access, and virtual desktops.
What is the Relationship Between AI and RPA?
AI and RPA robotic process automation are often compared by businesses and researchers. The extent to which it's true will be determined by some research. There are also people who disagree with the relationship between RPA and AI. The reason for this is that RPA cannot learn on its own since it functions while performing a task. It is still widely believed, however, that both have a growing relationship despite the above-mentioned fact.
AI technologies that augment and mimic human behavior are often used as examples by researchers, along with RPA technology or bots that copy human behavior. The two work together indirectly to improve the organization's productivity. By eliminating human bias, AI and RPA can accelerate decision-making.
Conclusion
As technology has developed rapidly over the last two decades, businesses have poured money into next-generation technologies to improve productivity and performance. RPA robotic process automation has taken over the world to automate all business operations, reducing cost and time to make them more efficient. RPA and AI may look similar, but they differ in a number of ways. For any company, they work together to achieve the desired results. Integrated into business processes, it will streamline workers' and users' experiences in real-time, enhancing worker and user satisfaction.